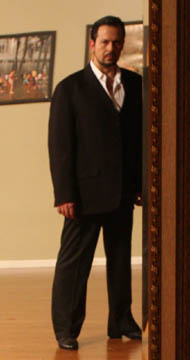 Jorge "Gem" Duras, instructor/director
Tango Sueño Academy is the premier Argentine Tango school in Connecticut, serving elite dancers for more than 12 years under the direction of Jorge "Gem" Duras.
The group and private lessons focus on authentic Argentine Tango as danced and performed in the halls of Buenos Aires. The activities take place throughout the Greenwich, New Haven and Hartford metropolitan areas including Milford, Norwalk, Danbury, Stamford, Middletown, Enfield and Westchester NY.
Gem has been dancing Argentine Tango for more than 22 years and teaching professionally since 2003. He trains and encourages his students to acquire the proper tango technique, so that they can create the sensuality, musicality and partner connection that the Argentine Tango is famous for.
Although Tango Sueño offers choreography and performance classes for more advanced students, the essence of tango "where the two partners become one" is never forgotten, with the goal of enabling the students to dance with others at local tango events and throughout the world including Buenos Aires.
The group classes are supplemented with various activities such as milongas, practicas and student performaces, as well as special events with guest instructors.
Offerings
| | |
| --- | --- |
| --- | Group classes |
| --- | Private lessons |
| --- | Advanced tango technique, strength and balance training |
| --- | Special discounts for new students |
| --- | Wedding dances, performances and choreography |
| --- | Annual Buenos Aires tour |
| --- | Connecticut Tango Festival |
| --- | For Better Tango blog... |